PADDLING THE DRYSDALE APRIL, 2006
(by Rick Armstrong)
Prelude
To the mighty Drysdale in the east Kimberley. What an adventure, 220kms without seeing another soul (or so we thought).
What would the river be like? All we knew was that it was reputed to be grade 2 – 2.5 and dried up to a series of longwater holes for most of the year.
Flying into Drysdale station we caught our first glimpse of the river. Initial impressions were of a much bigger river than I had expected, with large parts of the bed interlaced with trees and shrubs. Two significant rapids where visible just down stream from the station.
About a week before we commenced a flood warning had been out for all east Kimberley rivers and it was clear that the river had fallen 2 – 3 metres, where we first camped at the road to Ford.
Day 1 Monday 3rd April 2006 0-12 kms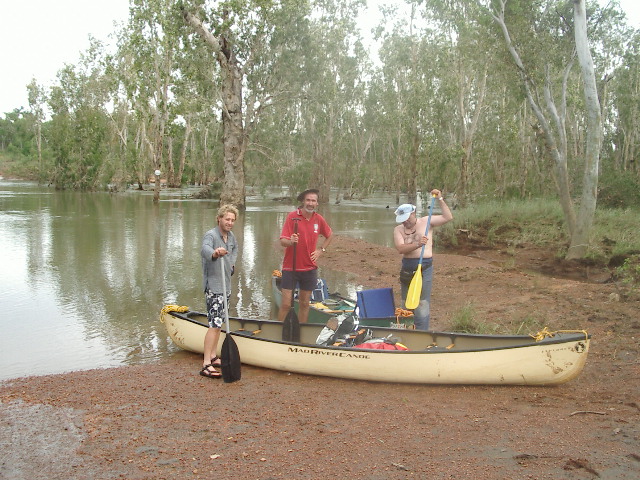 The day started with great expectation but finished with shattered ambitions. We set off in great spirits and throughout the day were accompanied by the sweet candied honey smell of the flowing paperbarks overhanging the river. The current was gently flowing until we paddled through the long still Miners pool.
At the exit a short but vigorous rapid saw the first capsize with Leigh & Laurie getting side on in a haystack and a long swim followed. Later in the morning we came to a long grade 2+ rapid but more cautious now, we successfully took the chicken shute down the edge without misadventure. Soon after we came to rapidly flowing section with the river bed bisected by numerous trees and shrubs. It was a real challenge to thread our way through but unfortunately one canoe came to grief again and ended up t-boned on a tree. Ropes and much exertion were required to extract it. Whilst drying off we noted damage to the hull including some cracking. As we were only 11kms from the start, and a track was available about 2-3kms back, we decided to leave the damaged canoe at Croc pool 2kms up stream and get a replacement.
Leigh and Rowen set off to walk back to Drysdale River Station. Laurie and Ricks job was to ferry the damaged canoe to the track. We dragged/paddled it along the rivers edge through scrubby ti tree until that became too difficult. Taking it over the boulder strewn banks was worse. Finally we dragged it up a minor side creek, however there was no sign of a track shown on the map. We left it at Croc pool and returned to camp. On the way heavy rain fell and we returned to a sodden camp. A lot of the gear was wet and after the rain ceased we spread it out to dry, then sat down to a cold meal of soaked pasta and spam as we were unable to light a fire. Most everything was wet so I did without a sleeping mat, but slept well from the days exertion. Split Camp.
Day 2 12-36km
A more successful day but not without misadventure. Leigh and Ro returned to camp early after spending the night on a small island, dining on Anzacs and "sour bears". Bat shit rained down on them all night and Ro used the canoe for shelter.
Left by 9am, paddled through long pools, some with multi channelled sections. This required paddling close to trees and through fast running scrubby sections. The front canoe got stuck briefly in one section and the following canoe was to close too take evasive action which resulted in Laurie and Rick having a swim. The canoe took a lot of salvaging with ropes from the small tree it was pinned on, and it got a bit buckled in the process, but not too badly.
We passed a large school of fruit bats hanging in trees by the river, and they screeched along with us for a while. By 4pm we set up camp after sighting a small goanna nearby. I trolled along the edge of the Pandanus and caught a small fish which made for a lovely entrée before a hearty meal of Deb.
Sand Mound Camp
Day 3 36-62km
Hooray, a spill fee day. Made good progress apart from the three long portages, including one past a glorious turbulent cascade with a 10 metre drop; the other two were long rapids with 3 metre drops.
Saw a few wallabies, odd fresh water croc and flying fox camp but a highlight was the birds. Numerous parrots, rainbow bee eaters, cockatoos, wagtails and other small birds swarm in the riverside trees and shrubs. We also saw three brolgas striding across a grassy plain nearby. Slept on a dry sandy bank, but shortly after going to sleep Leigh roused us to cover up and soon after 20mm of rain fell in 40 minutes, causing the river to rise 20-30cm over night.
Down Pour Camp
Day 4 62-94km
Good progress was made today along a river which is now much wider, with the bed up to 1km in one spot and many channels. Much conjecture about best route through the lines of pandanus and paperbark in these areas.
A helicopter passed overhead and we heard loud gun fire. Hell do they think we are illegal immigrants? But no, when they landed nearby we discovered they were shooting wild donkeys as part of an eradication project.
The river is a variety of slower pools and fast running shrubby shallows, some of which we walked through. Later in the day we paddled through a large "everglade" section close to paperbarks and other small trees, very delightful.
Camped on sandy island spit in mid stream and listened to news of the Katherine floods on Leigh's radio. Tried fishing, no luck. But shit rained down all night and some slept poorly. We later learnt that the fruit bats feed extensively on the flowering paperbarks overhead.
Bat Shit Camp.
Day 5 94-126km
Good progress in a.m with the delightful paddling conditions, mild with gentle breeze. Terrain has changed to lines of low hills which river snakes through. Largely uneventful until lunch, with indispersed minor rapids and long pools. River now very wide, up to 200 metres in places.
After lunch the map showed "Rocks" in two places. The first turned out to be a delightful stepped cascade where we lined the boats along the edge. The second was much more difficult to bypass and we stumbled along the edge, chest deep in places, over slippery rock slabs, sliding and banging our legs as we went.
Made camp half way through this long rapid at a delightful rock ledge on the side of a small cliff. A cool mozzie free night was enjoyed by all and we slept well. Phone call from Geoff Dynan. Rock Ledge Camp
Day 6 126-145km
A very tough day. The section we paddled today fell about 60 metres in 19km, or three times the grade of the rest of the river, and it showed. Started with a 300m sweaty portage and it continued like that for much of the day.
Fortunately at many of the rapids we had spectacular rocky cliffs beside the river to take our minds off the hard work. We hauled, dragged and pushed our canoes over rocks, through trees and down steep cascades. We stumbled, fell and crunched our legs on the slippery rocks. Cool conditions were the only redeeming feature. About 7 or 8 major rapids were bypassed and the river is still widening, now about 250m.
Ro and Laurie pinned their boat on a small obstacle in one spot, requiring a short swim. This was Ro's only blemish for the trip. Laurie got tangled on a string attached to his drinking cup (having lost his water container early in the trip), which caused anxiety as he floated towards a rapid. Finally we dropped our weary bodies on to a sand bank.
Shortly after dark Leigh spotted lights across the river and we all thought he was loosing his marbles due to the exertion of the trip. The last NOLS group had left 2 ½ weeks before us, so we couldn't imagine we could have caught them in six days. There was speculation that it maybe aboriginals but I doubted it given the distance from the nearest road. The morning would reveal all.
Bango Sand Bank Camp.
Day 7 145-161km
Early next morning we paddled across the river to discover the NOLS group, four leaders and 13 US students. Their trip was planned to take about 8 weeks with 4 weeks paddling along the river and 4 weeks walk back up Carson River to Drysdale Station. We chatted to the leaders for a while and then walked to the beautiful falls on emerald green Bango Creek, they were surrounded by palms and other exotic vegetation.
We resumed our trip soon after 9am and made slow progress with lots of dragging and tugging down minor side streams again. Unfortunately Laurie and I T boned our boat on a rock. This initially amused Ro and Leigh as we performed a rhythmic swapping of paddles from one side to the other, without actually placing one in the water. Even in shallow water the boat took some salvaging and left large kinks in each gunnel.
We paddled on, passing some vertical sandstone cliffs until we stopped at a small sandbar. Using frogs for bait I caught 4 smallish Sooty Grunter, which went down well, cooked in a Red Thai curry paste.
Sooty Sandbar Camp.
Day 8 161-170km
Away early and after an initial drag over rocks we had a lovely paddle along a wide deep pool with sandstone cliffs soaring above. The next rapid was a horror and our bypass route went on and on, and all of us bruised our legs on the treacherous wet rocks. Eventually we found ourselves in a small side creek and paddled along this for 2km, forcing our way though dense Paperbark and Pandanus.
When we rejoined the main stream we paddled across and called it a day at 10.30am. Leigh and I walked to Wallis Peak for a view over parts of the river and nearby bluffs.

We then climbed onto another bluff, picked up a lovely clean creek and followed that steeply down to the river, about 8km round trip. On the return to camp we had fun chasing and catching a few giant grass hoppers, which were about the size of your thumb. On return to camp we used these for bait and caught a few small bream and spent the afternoon generally relaxing and having a spa in a rock pool.
Wallis Rocks Camp
Day 9 170-196km
After a brief portage to start the day we had a long paddle though a 20km pool. Some rocky cliffs and colourful birds like the Blue Winged Kookaburras, Rainbow Bee Eaters and the occasional Flying Fox camp relieved the tedium.
We had lunch mid way through a "rock drag", beside a lovely cascade where we all enjoyed a spa.

The river continued to be a series of minor rapids with the odd long pool. Once we spotted a fish dancing on its nose which we soon discovered was due to a croc having its jaws clamped around the fishes head.
We pitched camp mid afternoon on a small sand covered rock shelf. I spent the late afternoon trolling along a pandanus lined bank and caught three nice bream. As dusk fell we could hear the roar of the noisy rapid below camp. After dark Leigh reported three pairs of croc eyes only a metre or two out from the bank, no doubt attracted by the fish remains I threw in. For some reason Leigh decided to shift his swag back from the very edge of the river.
Just after settling down a short sharp shower sent us scurrying to erect the shelter. It was incredibly hot and humid as we lay under the tarp but fortunately the rain cleared away quickly and we were able to go back to our normal sleeping spots.
Rock n Croc Camp
Day 10 196-200km
What a majestic day! A short paddle with several portages past large rapids brought us to the head of Solea Falls where we made camp.
The Falls are fantastic, a large "V" shaped notch in the upper escarpment crashing down about 12-15 metres to a huge pool below. Sandstone cliffs run either side of the pool in a U shape for about 200 metres downstream. There was a huge volume of water going over the falls, sending up a constant stream of mist and creating a gentle breeze.
The second NOLS group were also camped here, having a lay day. We spent most of the day chatting to the students and lounging around in the river (no such luxury from now on due to the possibility of Salties). The students pay US $10K for the two months outing.
When we felt energetic we portaged the canoes about 600 metres to the lower river. I fished amongst rocks below the falls and had a ball, catching three small Barramundi and another two of about 1.5kg, also five Bream.
Barra fillets cooked in foil on the open fire were a hit for dinner and the evening was filled with further chat with the NOLS group. Some of the lads were keen to know how they might be able to catch Barra. With a full moon ascending across the river, a gentle mist rising from the falls and the crash of the falling water to lull us to sleep, this must be one of the best places I have ever camped.
Sublime Solea Camp
Day 11 200-216km
An early start saw us away from Solea by 7.30am, with one last look over the shoulder at this magical place. The morning was slow going with many major rapids which we mostly portaged or lined past. To compensate for this hard work we had spectacular views of soaring sandstone cliffs and peaceful pools. Lunch was at a particularly beautiful pool of about 200 metre diameter with long sandy beaches and steep rocky bluffs. I searched among the numerous overhangs for aboriginal art without success although I'm sure there would be some.
Now we are in salty country we are much more careful about cooling off. After lunch we left the escarpment country for long pools and shallow tree filled runs with long sandy spits. By early afternoon we reached the end of the paddling section and hunted around for NOLS pull out point. We found a likely grassy flat and dragged the canoes there, sorted out our gear, disposed of excess food and burnt some rubbish.
By late afternoon we set off cross country towards Bulldust Yards, carrying about 40kg of excess gear on a long pole supported by two bearers. Together with a 4 metre high cane grass this made progress awkward and slow. Despite using GPS co-ord we were unable to locate the yards in the gathering dusk and set up camp on a grassy flat beside a swampy creek.
This was a big mistake as the water quality was murky and had to be treated before being consumed. The mosquitos savagely attacked us all night even through netting and sheets. I must have been bitten more than a hundred times and it was a relief to see the dawn as most of us got very little sleep.
Mozzie Torture Camp
Day 12 Bulldust Yards- towards Kalumburu
Leigh was up as soon as there was a hint of light and found Bulldust Yards about 500 metres from our camp spot. From the yards, there was a faint track running towards Kalumburu but this quickly petered out through a swampy area. There was much conjecture on the correct route with Laurie's GPS suggesting one way and Leigh keen to follow the direction of the original track. After proceeding cross country through cane grass on a GPS bearing, we intersected the track and followed that towards Kalumburu. We had dispensed with the porter style pole and two of us each carried a large bag of supplies, swag like over our shoulder.
The going was very hot and sweaty and we took the opportunity to cool off in a small creek when the opportunity arose.
Fatigue was setting in and the thought of walking an additional 50km was too much so we decided to summons a helicopter from the nearby Mitchell Plateau. The shiny blue chopper soon arrived and whisked us to Kalumburu, affording great views over the surrounding bluffs and cascading creeks on the way. On arrival we were met by the local Coppers keen to check out that we weren't smuggling grog into the aboriginal settlement.
After a quick shower and a clean up one of them gave us a quick tour of the town such as it is and took us to the air strip for our flight back to Kununurra. On the way we were lucky to fly over the bottom section of the Drysdale and relive our experiences on this magnificent wild river.
Thank you to my paddling companions who each contributed to the success of the trip.
Leigh:     Vision and experience in organising logistics
Rowen:   Paddler extraordinaire, organised provisions
Lawrie:    Great sense of humour, strength in portaging canoes.